Well, it rained all weekend, so we took advantage of being stuck in the house and worked on some projects. Got started on the builtin for the living room(no pictures of that yet, not enough progress to share) and worked on the kitchen, what a difference!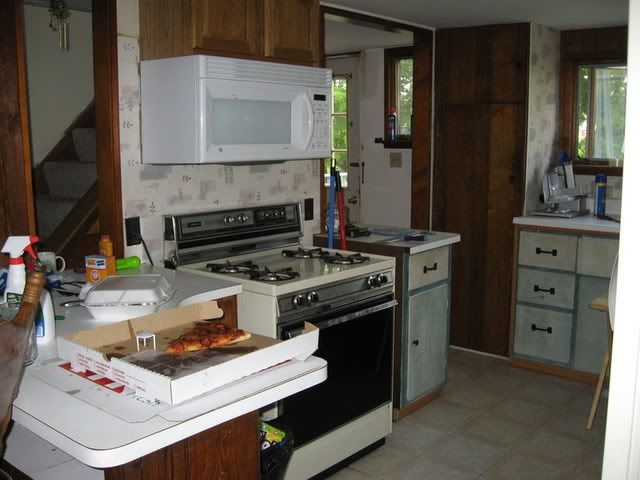 Here's the before shot...hideous isn't it? Up until Sunday, this is what it looked like, minus the pizza, and such on the counter, since this picture was taken before we closed on the house. We also replaced the stove after the infamous fireball incident.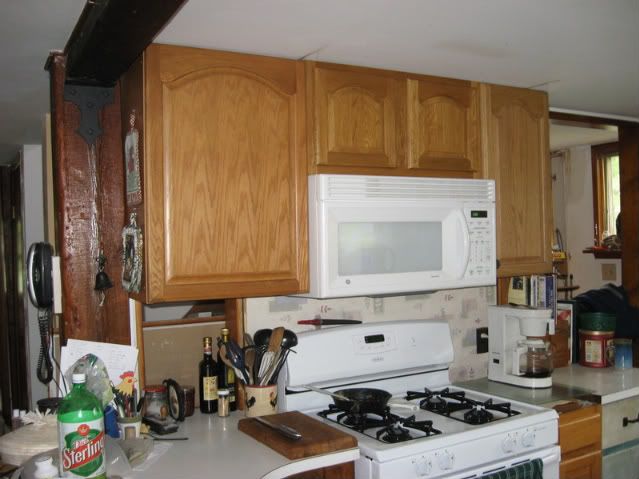 So, on our last trip to Ohio to fetch stuff from our old place, we brought back some of the cabinets we had installed when we renovated the garage. We brought up four wall cabinets and a corner cabinet, in addition to some base cabinets for the living room built in. Two of the wall cabinets were added to either side of the microwave, resulting in this:
Much better don't you think?? We also added a 9" cabinet to the left of the fridge, and replaced the corner cabinet. The kitchen looks SO much better now, like it was unfinished before.

Busy Bees!!!
Well, our bees are just trucking! They arrive May 3rd, and this was one of the bars a week later! Amazing, isn't it?? There's a full bar before it too! It's really been neat having the bees, and knowing that they're our bees buzzing around the yard has just made me even more aware of how nature is at work.
And this is the same bar just five days later!! Can you believe the amount the got done? Granted, it's not full of honey yet, but they are just TRUCKIN' along, it's absolutely amazing. It's going to be just phenomenal come next year when we'll be harvesting honey from our own hive, and hopefully will be able to pay attention to what's blooming and label the bars so we can try honey from different flowers.