Well, if there's one thing owning rabbits has shown us is that there IS truth to the old saying "breed like rabbits". We have a rabbitry full of kits right now, with all four does having litters.
Ready for some cute bunny pics? Oh of course you are!
Lily was the first in the barn to have babies this fall after we took a hiatus from breeding to let the does regain condition and to ease the load for our trip to California. It took a few tries before any of the rabbits finally were bred, and we were beyond thrilled when we went out and found little squirming bodies in Lily's nest box.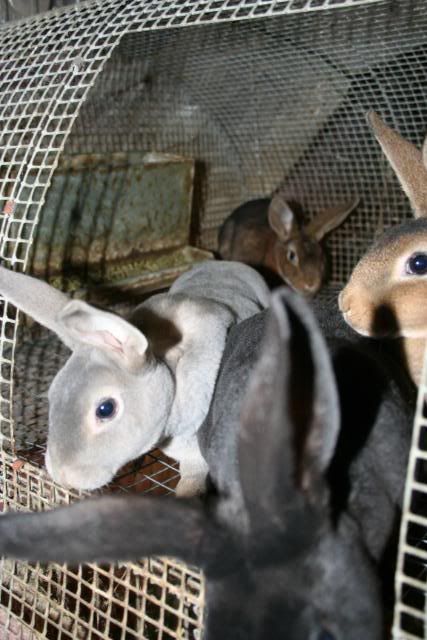 These guys are seven weeks old now and will hang around for another three before we butcher.
Blue and Josie were next. Blue had eleven kits while Josie had four, so we ended up fostering three of Blue's with Josie's litter. As the babies were born during a bitter cold snap Blue still lost two of the kits to the cold. They're growing well now and will move into growout cages in a few weeks.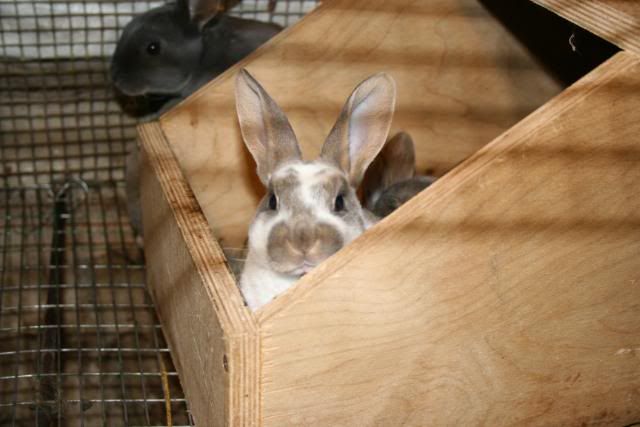 This little one is one of Josie's crew, and was playing peekaboo with Mike! Too freakin' cute!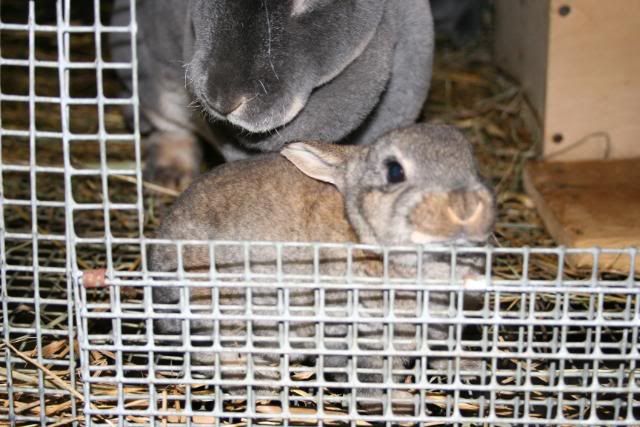 What a face! (One of Blue's crew)
Josie's crew, I think ;)
Definitely one of Blue's. This little black otter was playing hard to get, but it's one of the cutest faces out there!
Last but not least is our youngest doe, Nestle. She's a chocolate color(duh!) and is Cocoa's daughter. She kindled Thursday before last with nine babies, all alive and well and birthed in the nesting box. One of the things I've always been told is that first time moms are prone to kindling on the floors of their cages, so we are just thrilled with her. On top of that is the sheer size of the litter, which is a good sized litter for a doe of production age, let alone a first timer! She's giving good milk and all of the babies are looking great!
Miss Nestle checking to make sure we covered her babies well after taking pictures.
So little! Their ears have only bee open for a couple of days now, but the fur is coming in great!
This silly oaf is our "backup" buck, Hydro(short for Hydrox...you know...the Oreo knock offs?) He's a trip, and we're still up in the air as to whether or not we'll be keeping him around.
So, there ya have it, an update from the rabbitry. There's more pics of the bunnies, if you want to check out our
photobucket album
!