Sorry I haven't posted in a while...everytime I sit down to work on an update, something comes up, or I think..."Well, I should wait until after...[insert reason here]. But, ah well, life happens, right?
So, here's the rundown on life here in Western NY. :)

Rabbits - Cocoa, Amber, and Josie are pregnant, due in three weeks, Lily's three week olds just decided to pop out of the nesting box, and the eight teenagers are freezer camp bound this weekend. We did get the last of the cages done, and now have three double cages and two singles hung in the barn now, with a spare single as well.

Chickens - Our broilers and pullets are roughly 5 weeks old now - the pullets are fully feathered and looking cute, the broilers are getting HUGE, and due for butchering in about three weeks. The hens are laying eggs sorta kinda steadily, though Jackie, our one remaining easter egger hen, has decided she's done for the season, so I think she'll be stewpot bound when we deal with the broilers.
Kittens - Well, it took some doing, but two of the kittens were adopted by a family Sunday evening, and I think I may have a home lined up for Ghost as well. Sparky may become part of the family, but that's still up in the air, at this moment.
Garden - well, it's done. We had a pretty good frost last week that did in the rest of the garden, though we've been gleaning a few tomatoes and peppers from the plants. We'll be working on prepping the garden plots for spring, so hopefully we'll have an easier time of it getting stuff going come spring.
And, to help with that venture, we added another member to our team. Mike hasn't decided on a name yet, but I think he looks like Gossamer...what do you think?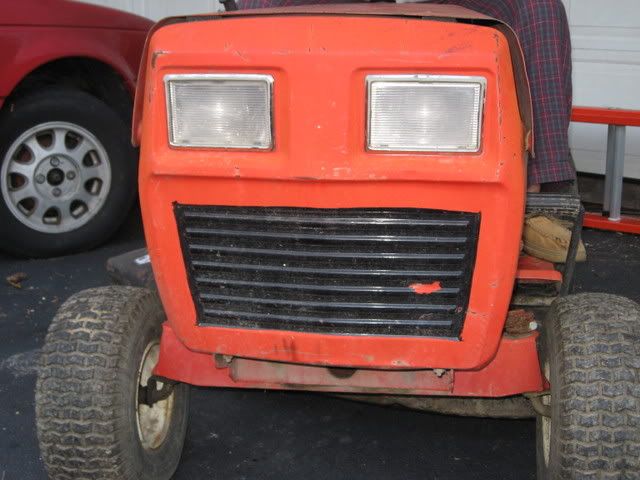 In addition to getting a riding lawn mower for $150 cheaper than what we paid for our push mower, the guy threw a little trailer in as well, so between the two, firewood, the garden, and other miscellaneous chores should be much easier!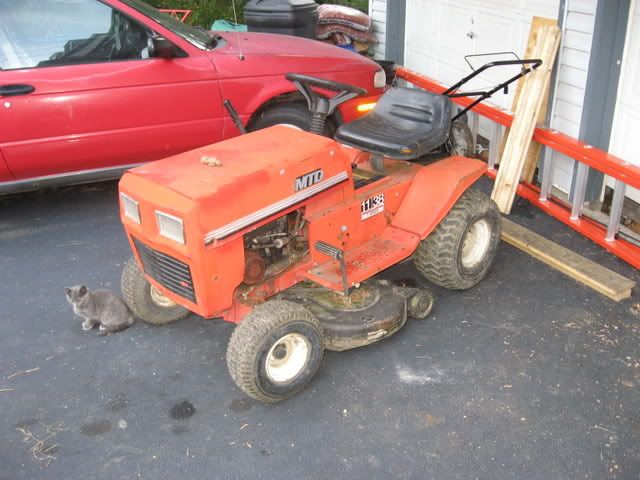 We had a pretty nice weekend though - beautiful weather, crisp and clean, with the leaves turning into the full Autumn show. Oh, and yesterday, on the way home from work, I spotted a couple of chairs sitting out by the road for free. So, we scored a new(to us) forest green leather recliner and a wingback style chair(though that definitely needs reupholstering - I don't care for the color, but the construction is nice and solid).
So, that's the doings here. This weekend in the opening of the Fall turkey season, and we're hoping to get to go out and take a shot at that :) Other than that, and sending rabbits to freezer camp, I'm not sure what else will be on the agenda. Might work on taking the pool down :)