Yeah, I know...I've been slackin'.
So this is going to be a long one...just to warn you ahead of time!
I thought I might just do a chronological update of the past month's going's on, but I think it might be easier to follow if I just go by topic. So...here goes.

Rednecks and Rememberance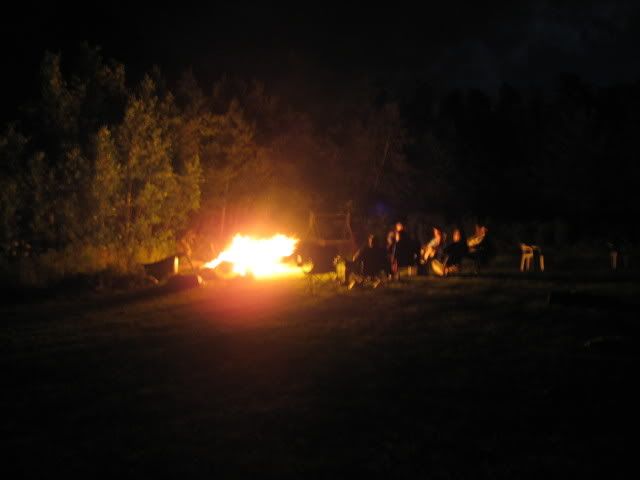 Last weekend Mike and I made a trip out to my mom's last weekend to attend a BBQ held to honor my grandmother's last wishes. It was nice to get to see some of my family members, and to hear other's memories of gramma, and we all shared quite a few laughs and tears.
I think Gramma enjoyed watching over us all, and my mom made sure to give her the seat of honor, right up close to the bonfire :)
I hope Gram heard us ribbing my aunt, though...I really think she would have appreciated it! She always had a great sense of humor, and loved to tease.
So...take a look at this...Aunt Coleen and Jess are quite proud of their outhouse, since they have so many bonfires and bbqs and such.
But...check out the decorating on this puppy....talk about your nice digs! Jess said she wanted to make sure you knew you were using the restroom "under the stars" :)
Now...the funny part is....and I wish I'd gotten a picture of it...that the outhouse is finished, but their kitchen is still under construction!!!
Things around our 3 acres...
Well, we've been trucking along rather well, livestock wise, but the garden is struggling. The weather has been unseasonably cool this year, with an amazing amount of rain, and that has proved a bit much for our garden to overcome. Our cukes have given up the fight, and the rest of our squashes have just been shivering in the chill. Our green peppers have been handling it rather well, but we've pounds of tomatoes just hanging out on the vines, waiting to make the transition from green to red. We've been harvesting green beans rather steadily, and our canillini and hutterite beans are drying - we'll be pulling them probably in a couple of weeks. The corn's doing so-so...we've got ears developing on the Painted Mountain and Golden Bantam, and the Kandy Corn that we planted late in the season is puttering along fairly well.
All in all, it's definitely been a season of learning about our climate and soil, and I'm definitely hoping we fare better next year.
The rabbits and chickens, on the other hand, are doing phenomenally well. Our mama hen is doing a fine job of teaching her three chicks how to scratch for bugs and free range, and it looks like only one of those is going to turn out to be a cockerel, which is pretty awesome. We've got an order of chicks coming the second week of September - half will be meat birds, the other half will be a pullet run of Golden Buffs, which are a standard egg laying breed. We wanted to get more of our favorite Buckeyes, but they were sold out.
As for the rabbits, Lily was bred Wednesday, so about four weeks from now we'll see her second litter born. Her first litter is seven weeks old today. We'll weigh them in two weeks and see how they're doing...and will probably head to freezer camp that weekend.
Cocoa's second litter is three weeks old today, and there are some beautiful coats coming in on those babies! She had eight healthy kits, and we lost two - though we do think we know what happened there, and will endeavor to prevent that happening again! They're growing well, eyes fully open and I expect to see them start to venture from the nesting box sometime this week.
Last but not least, here are shots of Otter and Amber. They're the two does we decided to keep from Cocoa's first litter, and will be added to our foundation herd to bring us up to four breeding does and a buck. They're growing well, and we'll probably start breeding them come the end of October or beginning of November. The same weekend Cocoa had her litter we butchered the other three from her first litter, and found that to be MUCH different than processing chickens, and while it's not something I enjoy, I definitely won't approach it with anywhere near the dread I view butchering chickens with!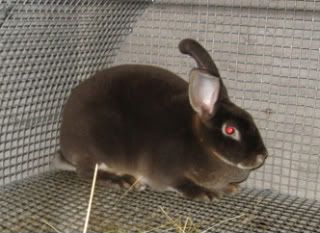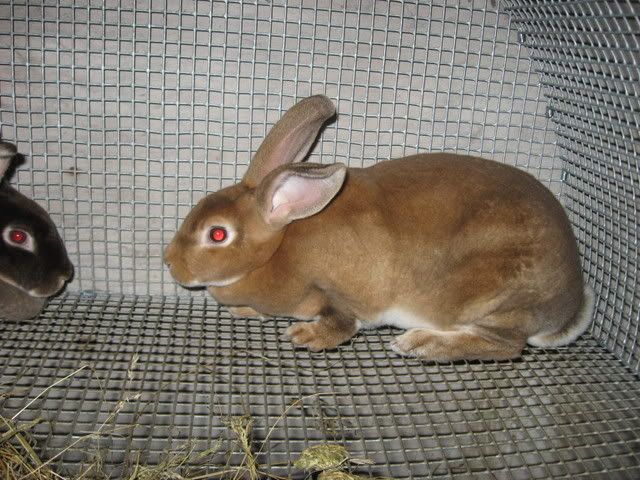 So....that's what's going on here. We've been working steadily on projects around the place, some small, some larger, and are looking forward to building the future of our 3 Lil' Acres. Our fruit trees are coming along nicely, and I can't wait to get the rest of what we have planned to round out the place.
I'll try to be a little more diligent in posting updates...depends on what's on our plate from week to week though!