Here in Western NY, Mother Nature scoffs at the calendar. What do you mean winter doesn't start until December 21st? Hah, like she holds to that! The temperatures have steadily made their way into the chilly range, and we've had the furnace on since Thanksgiving(albeit set only on 55 degrees). We have certainly learned why there are 8 huge wind turbines on the shores of Lake Erie, as the winds have been whipping steadily in the 30 mph range more often than not the last week or so, with gusts up to 55 mph. The company next door to where I work replaced their flag the week before Thanksgiving - it's already been ripped in half and is deteriorating rapidly.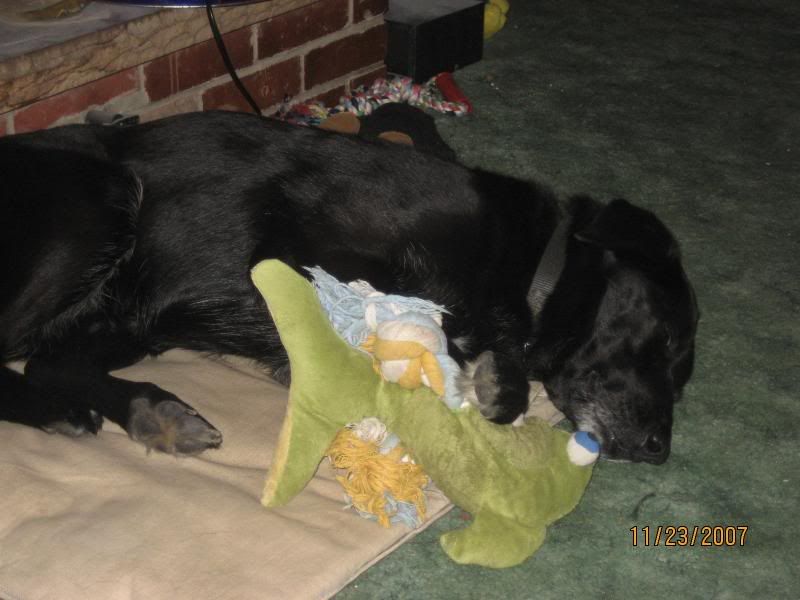 Sunday saw four inches of snow covering the ground, but melting rapidly as the temperatures worked their way into the upper 30s. It did stick around enough for Pollux to play in it...
... and for the majority of the chickens to make their opinions known, as they glared disdainfully at the cold white stuff covering the ground.
My drive in this morning was rather uneventful, as apparently I'm adjusting to driving with a steady press of wind off the lake. It started raining last night, melting the snow and turning the back yard into a pond, and was still drizzling this morning on my way in. The temperature has dropped far enough since that it's now snowing, and the wind is kicking off the lake, making it snow sideways. The schools along the lake have closed school, anticipating a really nasty afternoon. Hopefully it'll wait until I'm home before really cranking into high gear!