I know, I know....it's been a while, to say the least. A farm update should be upcoming in a day or two since we have big news on that front...for now, let me tell you about our latest visit.
The last week of July saw the arrival of more rain and my mom, baby sis, and niece from Ohio. We had a great time - even though they stayed for a whole week (what's the saying? guests like fish begin to smell after 3 days). As is becoming tradition, my sis brought up a crave case (for those of you who don't know a crave case is a box of 30 white castle "belly bomber" hamburgers) and a case of Barq's red creme soda. Boy, she sure does love her big brother. Anyways...
Apparently, the girls had a wild banana daiquiri-fueled party Friday night after I went up to bed. (All that hard farm labor tuckers a feller out doncha know?) I don't know if they're just keeping hush hush about the goings-on or not but I'd like to think that someone woulda taken blackmail photos had anyone decided to dance on a table or wear a lamp on their head - but who knows?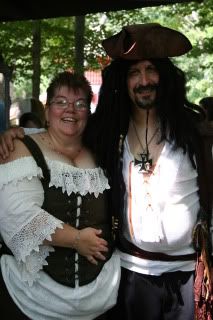 While Mandy and mom were up we went to the Sterling Renaissance Festival (where Jen worked for 5 years during high school and college) where ma (my mother-in-law) got herself corseted, my sister kept being picked up on by pirates (while ma was trying to pick them up), I got picked to be a cat, and munchie got to see "the princess"and ride a horse among other things.
Jen receives catechism tutoring from a naughty nun
While we were out at Jen's moms, we (Jen, me and munchie) picked blueberries from the patch in the backyard. Munchie really enjoyed getting to (taste) test them to see if they were ripe enough to pick. (She also got to hold a couple of snails and some really small toads that are all over around our house).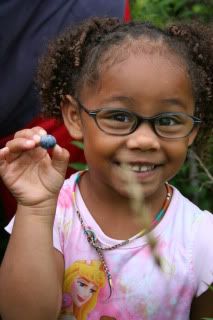 We also had a lot of great eating while we had company (that is one of my favorite parts of guests, I must admit). Jen made some awesome banana-walnut pancakes by request (good idea ma), mom made fetuccine alfredo (which I love but my tummy doesn't), and Jen made up an amazingly good (yes, she outdid herself) batch of rajitas. (For those of you who don't know, that's what we call rabbit fajitas). This was the first time that both moms had tried rabbit (and of course my mom is probably finding out right now - sorry mom) and they both enjoyed it greatly. We also made up some bruschetta with home grown basil and got chinese take out, mmmmmm....yummy.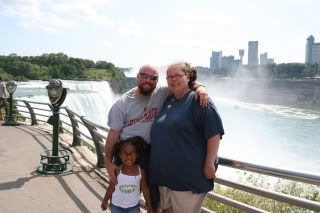 We, minus Jen, went up to Niagara Falls (which is the first time I've ever been there during the day) and got some great photos. And small miracle, there was a clear blue sky for the whole day.
The visit flew by and before we knew it, it was time for our guests to go :( So, thanks for coming up, we had a great time and I woulda even liked a couple more days (to make up for the days that the rain kept us inside).
So, who's next?