Hello all! Well, so much for updates coming in a more timely fashion. I'm sure we'll get there when the weather gets warmed up since there are many more little things to keep everyone up to speed on.
So, here's the new coffee table. I have spent the last 4 weeks designing and building this much needed piece of furniture. So lemme tell you a bit about it: this table cost less than $30 to build as everything was recycled except for the drawer pulls. The wood came from 2 large pallets from Jen's work (tho not everyone would be lucky enough to find 12 foot long soft maple pallets). And the top is 1 1/4 inch thick soapstone 54 x 24 inches (was a table top from a school science lab that was purchased for $10 in Ohio and was once an island in the old kitchen.... TWICE recycled, how about that? ;) ).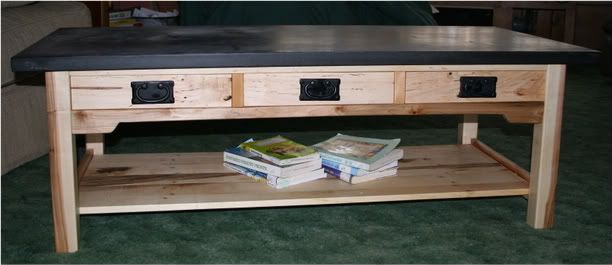 So, I tell Jen that I just designed a table to fit the top. So, what design features might there be, you ask. Well, let's see... there are 3 drawers for seed and nursery catalogs, a large top for working in front of the fireplace, and a shelf for the multitude of library books that we always have around. (The erie county library system is exceptional).
I decided that I wanted to show off the wood and that it was recycled so I finished it with linseed oil to show off the figure and didn't fill any of the nail holes from it's previous incarnation. One of the really cool bits of figure is on the shelf. I think it looks quite a bit like a buffalo. Do you think the wood could know where it is? Probably not...but still pretty neat.
So, this is some of what I've been up to for the last month. Next on the list? A strawberry tower for those 100 strawberry plants that should be here in the next month or so. Then maybe a new kitchen table, finishing the built-in in the living room, shelves in the craft room, new raised beds, finishing the upstairs bath, matching end tables...... ok, I'm gonna stop thinking about it before I get overwhelmed.
Hope everyone is doing well, I'll poke Jen and get her to fill everyone in on the latest bunny news.
Mike